I have to admit something. I've written several stories in which it snows in Renais, but I have absolutely no canon evidence that it does. I just really like to write about winter. Magvel seems to be vaguely European – northern European even – so snow isn't unlikely if that's the case.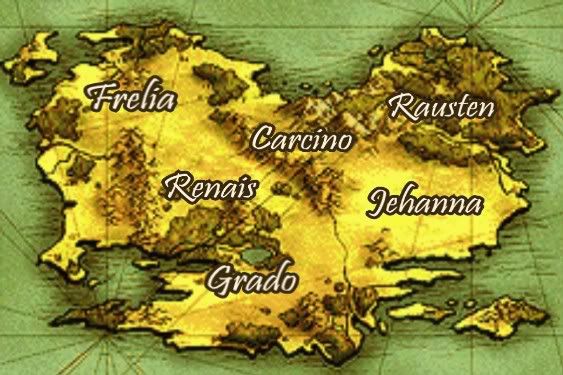 What really bothers me about the map, though, is Jehanna. It's a random desert on the southeast side of the continent, right on the coast no less. Europe certainly isn't known for its deserts so that makes it a bit of a departure from the European mould. The only way I've ever been able to make sense of it, is to blame the mountains on the Jehanna border. By the look of the map, Jehanna seems to have mountains on its west and north border. These could be responsible for keeping rain out of the region. I checked Wiki again (source of all knowledge) and found this handy bit of info:
"Many deserts are formed by rain shadows; mountains blocking the path of precipitation to the desert (on the lee side of the mountain)"
That at least makes it seem slightly less preposterous for there to be a desert there. I'm not sure if there's much excuse for the fact that I have it snowing on one side of the mountains in Renais, and then a desert on the other side. On the other hand, maybe I can suggest that Renais is at a high elevation hence cooler temperatures? It also has mountains on two sides so maybe it's receiving a lot of moisture too. That would perhaps make it fertile in summer but prone to lots of snow in winter when it drops below freezing due to the high elevation?
Current Mood:

sore